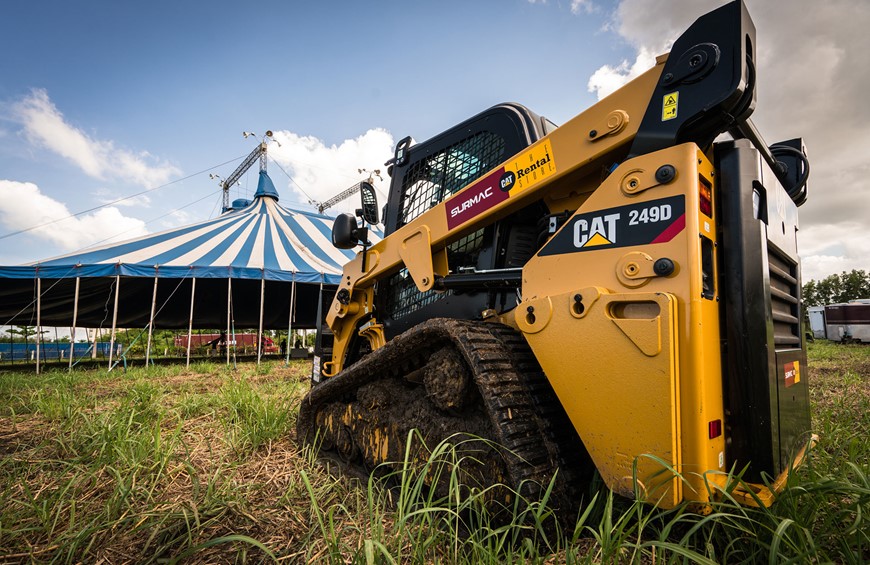 What if your company performs very diverse tasks? One moment you have to lift things and move them from place A to place B. Not long after that a truck has to be loaded with sand, another truck has to be unloaded and at the end of the day the sand has to be placed in a pile. For this you probably need three machines: a forklift, a dozer and an excavator. With the Cat® Compact Track Loader (CTL) or Cat® Skid Steer Loader (SSL) you only need one machine. Duane Heidanus, Rental & Used Coordinator the Cat Rental Store at Surmac, says that the versatility of this machine is underestimated. According to the Coordinator, not only the multi functionality of the machine plays a role here, but also the convenience, the fuel consumption and the technological innovations make this machine a must-have in the building and construction sector.
"The CTL / SSL is a machine that is used during construction work and is capable of performing various activities. This is because the CTL and the SSL have the ability be equipped with multiple pieces of attachments: such as a bucket, forks, a trencher for digging, a blade for moving material and a rake, "Duane explains. According to our colleague of the Rental & Used department, an entrepreneur who wants to work quickly and efficiently would do well to purchase or rent a CTL (Compact Track Loader) or SSL (Skid Steer Loader).
The operator was very much taken into account when this machine was designed. The operator experiences ultimate comfort. The cabin of the CTL / SSL can be closed, so that the operator experiences much less noise. The air-suspended ergonomic seat, spacious cooled cabin and legroom will be experienced as a luxury by the operator. In addition, technological features offer more to the experience. The LCD display meets modern requirements, shows the status of all important components to the operator in real time and also has an integrated rear view camera. Chagall Basfielt, Fleet Coordinator for the Cat Rental Store at Surmac says that disconnecting and attaching equipment is very easy. "You don't need anyone. The machine has an easy quick coupling system. "In addition, the machine is more fuel efficient than the competitor."
The new CTL / SSL is also secure. For actions that will harm the machine and / or the operator, a warning is given. "The machine has many safety features that ensure that as few accidents or damage as possible can be brought to the machine. An example is that the machine will not start when the door is open. "The machine will not start if you do not have your safety belt on and the armrest is not lowered," says Chagall.
Heidanus says that the  CTL / SSL offers many solutions for building and construction companies. "There may not be a large demand for this machine (yet), but there is a need for solutions. And those are the solutions that this machine, with a range of attachments, offers."